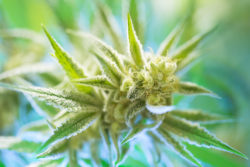 Marijuana domain names dominate .com
Source: Domainnamewire.com
People are getting creative with marijuana domain names as legalization spreads.
The real winner in Tuesday's U.S. elections might have been marijuana.
California, Massachusetts and Nevada passed recreational initiatives and several other states passed medicinal marijuana initiatives.
So it's only fitting that four terms for marijuana were trending in .com last month. By trending, I mean they saw the biggest spike in registrations over the prior month.
Cannabis saw the biggest spike according to .com registry Verisign. 2,157 .com domain names including the term were registered last month. Registrations include CannabisCropInsurance.com, HawaiiCannabisUnion.com and CannabisShake.com.
Marijuana was #2 on Verisign's list with 1,651 .com registrations such as MarijuanaSafetyTest.com and MarijuanaLawFlorida.com.
Weed and Pot also make the list:
1. Cannabis
2. Marijuana
3. Corporation
4. Fan
5. Weed
6. Network
7. Pot
8. Cellular
9. Memory
10. Pixel
---

© DomainNameWire.com 2016. This is copyrighted content. Domain Name Wire full-text RSS feeds are made available for personal use only, and may not be published on any site without permission. If you see this message on a website, contact copyright (at) domainnamewire.com.
Latest domain news at DNW.com: Domain Name Wire.
The post Marijuana domain names dominate .com appeared first on Domain Name Wire | Domain Name News & Views.
Source: Domainnamewire.com